Hi Civil Engineers, As there many formulae in civil engineering subject many authors consolidated and gathered all the important formulae in a single book. In this post, we are suggesting you with the best civil engineering formula material which will help you to revise the formulas.
This book contains
Beam formulas
Column formulas
Piles and Piling formulas
Concrete formulas
Timber engineering formulas
Surveying formulas
Soil and Earthwork formulas
Building and structures formulas
Bridge and suspension cable formulas
Highway and road formulas
Hydraulics and waterworks formulas
Stormwater, sewage, sanitary wastewater and Environmental protection formulas
About the Author:
Tyler G. Hicks, P.E., is a consulting engineer and a successful engineering book author. He has worked in plant design and operation in a variety of industries, taught at several engineering schools, and lectured both in the United States and abroad. Mr Hicks holds a bachelor's degree in Mechanical Engineering from Cooper Union School of Engineering in New York. He is the author of more than 100 books in engineering and related fields.
Civil Engineering Formulas book by Tyler G. Hicks:-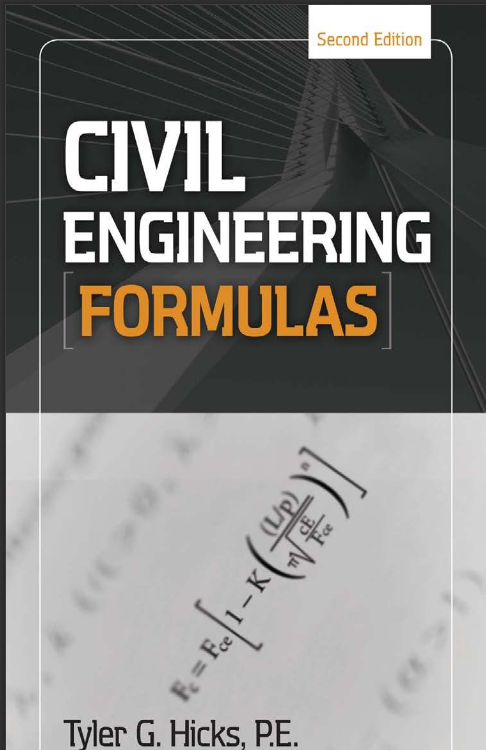 For more books and updates Like us on Facebook 
Also download: 
STAY TUNED MANY MORE ARE YET TO COME SOON!

For Instant updates Join our Whatsapp Broadcast. Save our Whatsapp contact +919700078271 as CivilRead and Send us a message "JOIN"

Never Miss an update Click on "Allow us" or Red notification bell at bottom right corner and allow notification. Stay tuned! More are updated Soon!!.
Civil Read Wishes you ALL the BEST