Learn about: Types of Woods used in construction
Wood:
Wood is a hard and fibrous material which is formed from Wooden trunk and stems. After extracting wood from trees the wood logs are subjected to Seasoning.  (Types of Woods used in construction)
Seasoning is a process of letting water out of wooden logs up to an optimal level. In normal dry warm weather, it is suggested that seasoning for about one month is recommended.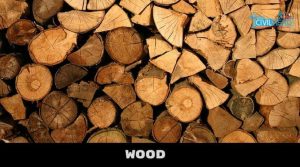 Types of Woods used in Construction:
The Below woods Types of Woods used in construction generally,
1. Teak Wood:
The wood which is extracted from broad-leaved deciduous trees ¨Tectona Grandis¨ ¨teak¨ is called Teak Wood. Teak is a Hardwood and has rich oil content with high tensile strength when compared with the other types of wood. It is very durable and it can last long for 100 years. As mentioned every wood requires Seasoning. Wood in construction is used only after proper Seasoning.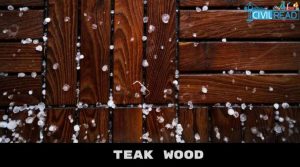 Where to use Teak Wood?
As it is capable of resisting all type of climatic conditions. It is highly durable and resists the moisture content during rains. This type of wood is Majorly used in Outside doors which are prone to atmospheric climatic conditions and Furniture in Lawns, Gardens etc.,
The cost of teak wood is much higher when compared with the other types of woods.
The Density of teak Wood = 700 to 850 Kg/m3
A good teak has more density. Denser more than concrete Strength
Colour: Yellow to Dark brown colour
Advantages of Teak wood:
Natural resistance to termites and insects: As mentioned Teak has a Natural Oil content in it, It resists the damage of wood by termites and other fungal insects.
Density: The density is much higher in teak which resists the Rot and decay of wood.
Moisture resistant
Can be easily hand carved
Heat moderation: this kind of wood won't become too hot in summers and too hot in winters.
No need of painting. Self Finished material and soft material.
Less maintenance and requires less polishing.
Teak wood is easy to handle, polish and work with so a lot of carved designs are made using this.
Disadvantages of Teak wood:
The major disadvantage is it very expensive.
Limited unavailability
Hard to find good quality of wood.
Woodworking Tools get blunted: As the wood itself is very strong it often makes wooden tools to blunt and it requires frequent sharpening of tools.
2. Sal wood:
The wood which is originated from Sal Tree is called Sal wood. It is less expensive when compared with the Teak. Sal Trees are Straight & cylindrical in the shape they can grow up longer heights. So we can extract good wood with longer lengths.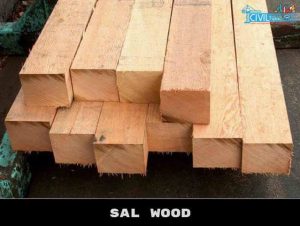 Where to use Sal wood?
Sal wood is used for Inside doors and windows frames, Tool handles, etc.
It is not much hard when compared with the Teak wood and requires termite control. they are 30-40% heavier than teak but its 20% less hard than teak.
Density of Sal wood = 800 to 900 Kg/m3
Advantages of Sal wood:
They can be easily available in longer lengths.
They are moisture resistant.
Polishing not required but Painting is required.
Less expensive when compared with Teak wood.
Easily available.
Disadvantages of Sal wood:
It requires termite control.
Direct sunlight is avoided on Sal wood as this may lead to forming Cracks in Wood.
Sal wood Surface has small cracks and these are filled by Paint.
Finishing requires paint.
3. Ply wood:
It is a Strong thin board of wood and made up of three or more layers of wood and these layers are glued on top of one another with alternating grains. As it is an engineered Wood by the perpendicular graining, it is more hard wearing and long-lasting than normal wood.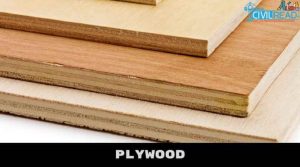 Where to use Plywood?
The only wood which we can increase the Strength is Plywood. But how? well, Plywood not only has the strength of the wood that it's made of, but it's modified to make it even longer lasting. When you place two or more lengths of the board on top of one another with alternating grains, it prevents the wood from being able to snap with any ease. The more layers of wood used, the stronger the plywood.
This type of wood is used in partitions, cardboards, furniture etc
There are different types of Plywood based on the strength of the material used.
Softwood Plywood, Hardwood Plywood, Aircraft Plywood, Decorative Plywood, Flexible Plywood, Marine Plywood
Density of Ply wood = 500 to 650 Kg/m3
Advantages of Plywood:
Insulation Material: Plywood has a property of Insulation, As it acts as an insulation for rains, high humidity etc. It also possesses a good Thermal and Sound Insulation property.
Strength: Plywood can easily bear heavy objects. As mentioned, it is glued on top of one another with alternating grains. Due to this nature, It transfers the load easier to all area of Plywood
Flexibility: As it's an engineered product it can be modified to any desired shape as per client requirement. It can be easily modified to take on any piece of construction
Disadvantages of Plywood:
It is found that plywood emits Volatile Organic Compound.
Plywood becomes heavy in contact with water and it should be covered when left outside to avoid the risk of absorption.
4. Nova-Pan wood/ Medium-density Fiber-board (MDF):
Nova-Pan Particle Boards are one of the best substitutes for plywood and other types of wood which we generally used for construction this wood is made up of residuals (wastage) generated from Hardwood or Softwood & mixed with binders (Wax or Resins) under High temperature and pressure to form wooden fibres. this is the cheapest wood which is available in the market. It's an eco-friendly product and uses less energy for making boards. These are usually made in panels and can be cut off in any desired shape.concrete
The density of Nova-Pan Wood = 500 to 1000 Kg/m3
More Denser more the strength and these are available in three types of light, standard and high density.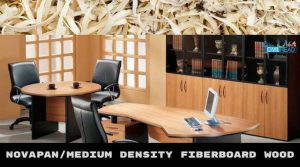 Where to use Nova-pan wood?
Nova-pan wood is labelled with two colours, if it is labelled with green colour then it is a moisture resistant and if it is red then it's a fire retardant.  This type of wood is used in making furniture which makes cheap and less expensive. (Types of Woods used in construction)
Advantages of Nova-pan wood:
Very Cheap when compared with other natural woods.
It doesn't have any grains, It's an isotropic wood (properties are same in all directions)
It won't contracts or expands according to atmospheric conditions.
Finishing is great when compared with Plywood.
Disadvantages of Nova-pan wood:
Light grade Nova-pan may swells when in contact with water.
It may shrink in low atmospheric conditions.
5. Rubber wood:
This type of wood is not recommended for construction purposes. This type of wood is used in furniture. It has very less strength when compared with other woods.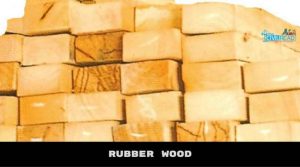 Density of Rubber wood = 450-600 Kg/Cu.M
Advantages of Rubberwood:
It very cheap wood when compared with other woods.
Easily available.
Less density suitable for light furniture.
It's an Eco-friendly product.
Wraps less.
Disadvantages of Rubberwood:
Harmful to health according to research studies rubberwood is most harmful to wood which may cause severe allergies.
Easily prone to fungus when in contact with water. (Types of Woods used in construction)
For Instant updates Join our Whatsapp Broadcast. Save our Whatsapp contact +919700078271 as Civilread and Send us a message "JOIN"

Never Miss an update Click on "Allow US" and make us allow or Click on Red notification bell at bottom right and allow notifications.
Civil Read Wishes you ALL the BEST for your future.