Different types of  Reinforcement in footings or types of mesh used in foundation:-
There are different types of Reinforcement in footings. We know that we have to insert reinforcement in Footings for tension requirements. As per B.N. Datta the percentage of reinforcement in footings is between 0.5% to 0.8%.   Type of Mesh used in footings is designed by structural engineer according to load analysis. Here I am discussing the types of mesh (reinforcement) adopted in different types of footings or foundations.
There are four different Types of Reinforcement in footings or foundations: –
You can also read 10 Types of footings or foundations which we adopt in Construction
1.  Plain Mesh:
This type of Mesh is usually adopted in Plain or Isolated or combined footings. This type is generally used in low-rise buildings. And coming to High rise buildings  Before adopting Plain Mesh one should analyse the load according to this mesh and decide whether the type of mesh is balanced with the load or not.
In this type, bars are placed as a grid. It may have bars of different diameter and spacing in either direction. The spacing may or may not differs in both directions.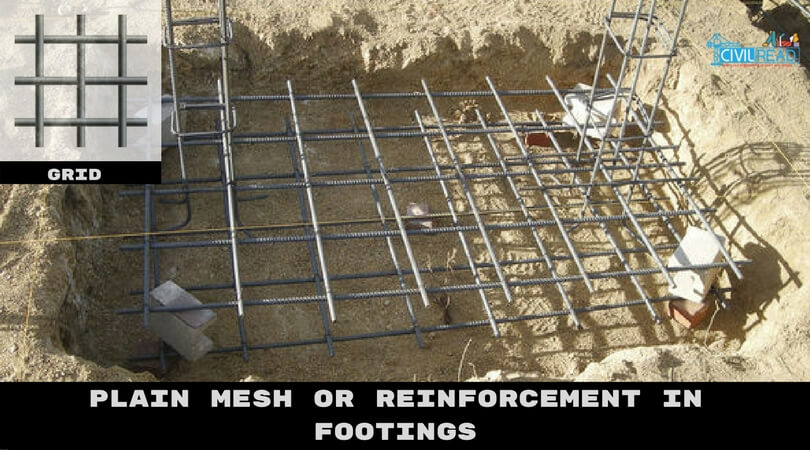 2. Mesh with hooks (Hook Mesh):
This type of mesh is adopted in low rise and as well high rise buildings. The footing is reinforced as grid and at the ends of the mesh, the bars are hooked. Bending the bars ends helps in the proper anchorage of the reinforcement. Where the hook length is 9D. D is the diameter of the bar.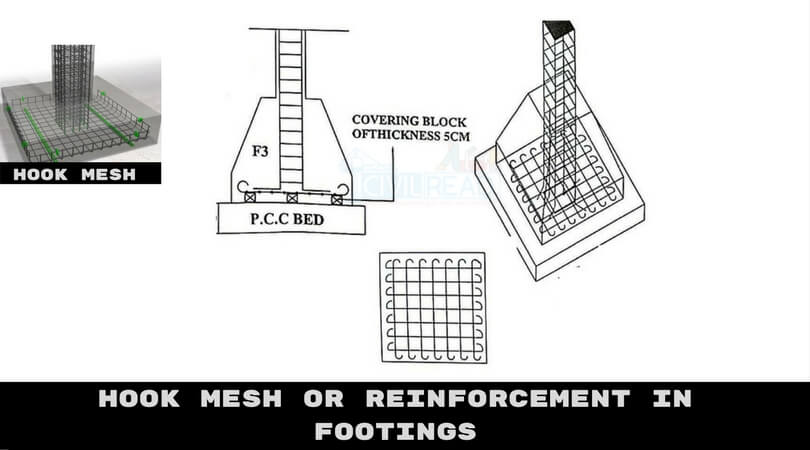 3. Footing Mesh up to the depth of Footing:
It is similar to Plain footing. In this type, The bars are bent at ends upto a height of footing. Remember, the concrete cover of 1″ to 4″ is provided in all the sides of footing.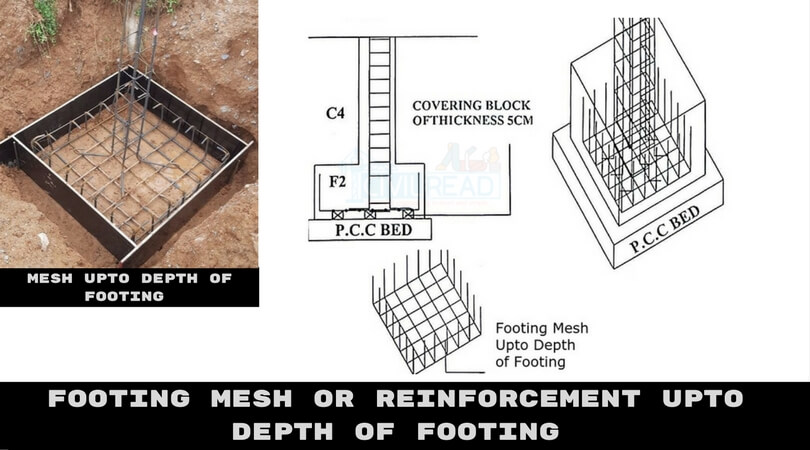 4. Raft Mesh:
This type of Mesh is provided in Raft footing. Raft footing is adopted when soil bearing capacity is very less.  In this type, Mesh is divided into two parts, Top mesh and Bottom Mesh.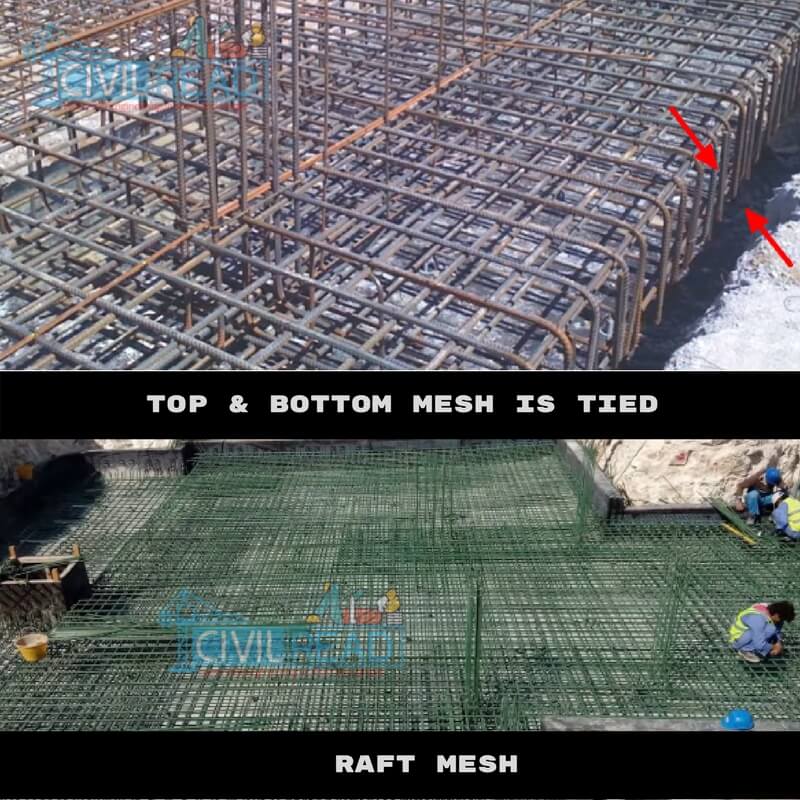 Firstly, the bottom mesh is provided on covering blocks, ends of a bottom mesh are bent at an angle of 90 degree up to a height of 50D where D is Dia of Bar.  And then top mesh is tied to the bottom mesh in reverse direction. Besides, the top mesh is similar to bottom mesh bent with 90 degrees but an extra bar of 50D is not provided as it is already equipped on bottom mesh.
The 50D extra bar is provided either on bottom or top mesh.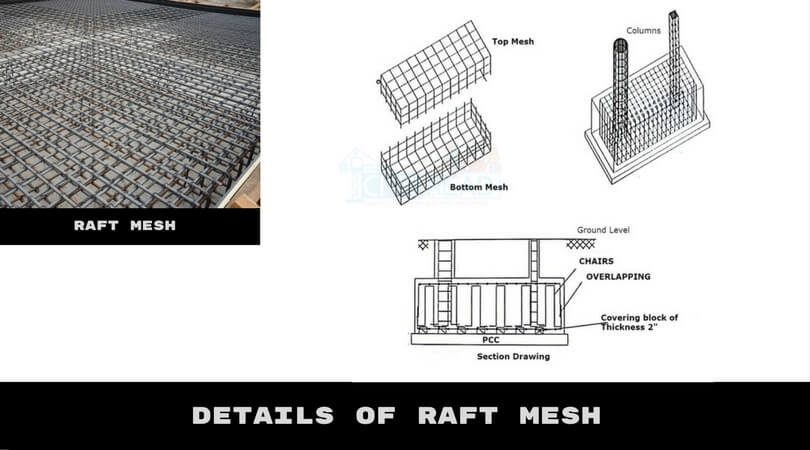 Single ring or double ring In section drawing of above figure. The rings are tied to top mesh and bottom mesh to maintain the exact framework. With the help of rings the Steel reinforcement wont distort in any direction.  Minimum Dia of Bars used for rings are 6 mm.
In single ring Raft mesh rings are placed in only one direction either horizontal or vertical, Whereas in Double ring System, the rings are provided in both the direction.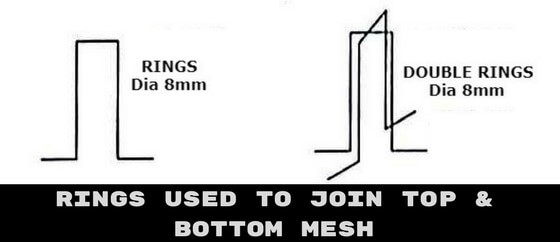 Must Remember:-
Concrete cover varies from 1¨ to 4¨ based on size of the footing.
Hook length in Hook mesh is always 9D, where D is Dia of bar.
Extra bar is provided either on top or bottom mesh and extra bar length is 50D, 'D' is Dia of the bar.
You can also read:-
10 Types of footings or foundations which we adopt in Construction
Bar Bending Schedule for types of footings
16 Different types of slabs in construction

For Instant updates Join our Whatsapp Broadcast. Save our Whatsapp contact +9700078271 as Civilread and Send us a message "JOIN"
Never Miss an update Click on "Allow US" and make us allow or Click on Red notification bell at bottom right and allow notifications. Stay tuned! More are updated Soon!!.
Civil Read Wishes you ALL the BEST for your future..