About Company:-
Nagarjuna Construction Company Jobs Hiring Civil Engineers for BE/Btech civil engineers and Electrical engineers. The interested candidate may apply for the job. Positions they are offering are project management, surveyors, environmental engineering, technical co-ordinators.
NCC Limited is one of the leading construction companies in India having a presence abroad and its turnover at the tune of Rs. 8325.15 Crores as on 31-03-2016. NCC Limited is engaged in the construction/project activities in the infrastructure sector.
Good manpower plays a key role in the company's growth. NCC recognizes Human Resource as the vital element of the entire enterprise. More than 3,500 qualified and experienced technical and commercial personnel translate the philosophy of the company into meticulous action.
Update : Now Hiring Civil Execution engineers , QS & Planning Engineers , Civil MEP Engineers, Civil quality Control engineers , contracts and claims etc. Dont miss .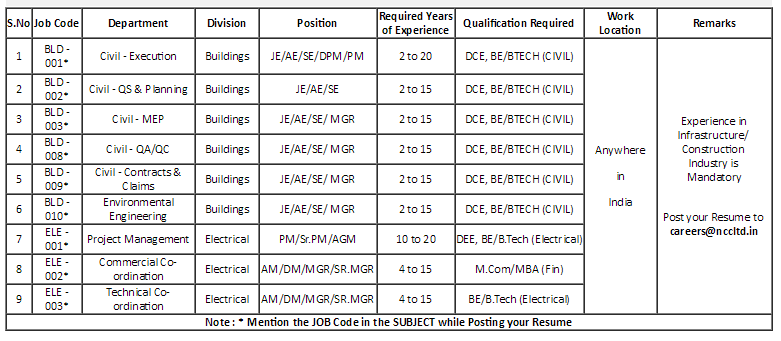 How to Apply?
Prepare Your resume include all your technical qualifications and must include knowledge in MS Office (MS Word, MS Excel), AUTO CAD
Send Your resume to [email protected] 
Must add above mentioned JOB code in the Subject of Mail. (added sample letter below you can make a use of it)
All the Best !!
Official Notification
Apply Here
Sample Cover Letter:
Dear [name]:

I'm writing in response to your recently advertised position for a [role title]. I am very interested in this opportunity with [company] and believe that my qualifications, education and professional experience would make me a strong candidate for the position.

I am a [insert personal characteristics] professional who [add more information on how you can add value to future company]. (You can insert short version of your career profile here).

Enclosed is my resume that more fully details my background and work experience, and how they relate to your position. As you can see, [pick out a few key details or experiences that align with the specific requirements of the advertised role].

I firmly believe that I can be a valuable asset to your team. I welcome the opportunity to speak with you about this position and how my experience could help [insert name of company] achieve its goals.

Thank you in advance for your consideration.

Regards
(name)
Mobile No:

///Coverletter Credits:Hudson.com//
Most Important :- Submit Your Resume to NCC Ltd. So that when there is an opening for particular Job in future. You ll get a call or mail from them. Be among the first for next openings and submit your resume below.
Submit resume for Future openings
Note: Above mentioned link doesn't makes you  to apply for current openings. 
Civil Read wishes you a ll the best!!
Fed up with the Naukri and Monster frequent updates on Jobs. Confused with which Job to Apply? we are here to help you. Filtering the best jobs from leading websites and guiding you the perfect job to achieve.  From now we are updating our Job page for every three days so that you can apply new job for every three Days. Hope you love this? Don´t forget to add comments and suggestions down. We are very happy to help you ?Don´t forget to Share our website..
STAY TUNED MANY MORE ARE YET TO COME SOON! 
For Instant updates-Join our Whatsapp Broadcast. Save our Whatsapp contact 9700078271 as Civil Read and Send us a message "JOIN"

Never Miss an Update Click on "Allow us" or Red notification bell at bottom right corner and allow notification. Stay tuned! More are updated Soon!!.
Civil Read Wishes you ALL the BEST..!