Conventional signs and symbols used in maps:-
In a map or drawings or plans or in land surveying, the objects or an area is depicted by symbols not by names. As a civil engineer, you must know how to read the drawings, maps and plans. This post will be a key for you to read maps.
In this article,  we are going to show you different types of symbols used in topographic land surveys, road maps, railway maps, surveying maps, building plans, Electrical and telephonic lines. You can use search option on table to find out the specific symbol of your entry.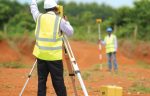 Different types of Symbols used in Building plans :-
The below mentioned symbols are objects which we generally use in autocad drawings of building plans. Its the basic symbols which every civil engineer must remember.
Object
Symbol
North Line
is the direction along Earth's surface towards the geographic North Pole

Door
Window

Ventilator
Gate
Western Water Closet [WC]
which is also called as Wester Commode
Indian Water Closet [WC]
Wall
This symbol is usually used to represent outer wall which has a thickness of 9"
Partition wall
Which is usually used in representing wall of partitioning. It has a thickness of 4" or 6"
Staircase
Wire fencing
The fencing around the building is done by wire.
Pipe Fencing
The fencing around the building is done by metallic pipes.
Boundary Line
Different types of Signs and Symbols used in Surveying maps :-
The below mentioned objects are Land surveying map symbols which we usually see in surveying maps (example plot map in a city).
Objects
Symbols
Bench Mark

which is used as reference point or called as permanent point this is usually marked with respect to known elevation (Mean Sea Level)
Lake or Pond
River
Canal
Building (Pukka)
Huts
Temple
Masjid
Church
Tree
Orchard
Tube well
Different types of Symbols used in Road or Railway maps :-
These are the symbols which we use in depicting road survey or maps.
Objects
Symbols
Metalled Road
Roads which are made of bitumen of coal or cement concrete
Un-Metalled Road
Roads which are laid using sand
Road Bridge
Footpath
Railway line (Single)
Railway line (double)
Railway bridge
Level Crossing
Main stations or triangulation stations in chain survey
Traverse stations or sub stations in chain surveying
Electric post
Electric line
Telegraphic Line
Telegraphic post
You can also download above mentioned objects in below attached CAD file in .dwg format.
Related Articles:
For Instant updates Join our Whatsapp Broadcast. Save our Whatsapp contact +9700078271 as Civilread and Send us a message "JOIN"

Never Miss an update Click on "Allow US" and make us allow or Click on Red notification bell at bottom right and allow notifications.
Stay tuned!
Civil Read Wishes you ALL the BEST for your future.