Building materials can be termed as the materials used for the construction of a house or a civil engineering project. Over the years humans have been using numerous building materials to make their homes better. The choice of optimum Building materials used in  construction depends upon its effectiveness in resolving an issue and its cost-effectiveness.
In overall to ease the diversification in building materials, they have been categorized the building materials into Natural and Man-made Building materials. Natural is the one that is available in nature and ready to use. Whereas Man-made building materials are the one that is synthetically or artificially prepared for desirable properties.
Natural Building Materials used in construction
1. Mud & Clay:
Mud and clay have been the most significant material that reformed history. The prominent factor about how effective mud and clay could be depended upon its quality. The high presence of clay in soil signifies cob/adobe style, whereas low quantity resembles sod building.
On the other hand, straw and sand mixed and moulded as rammed earth can be seen in historic structures.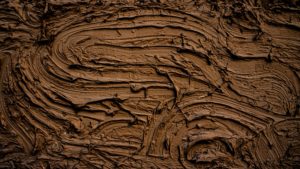 Prominent benefits of clay as a building material:-
Versatile: Multi-dimensional applications despite complications such as structural amendments and interior aspects.
Durable: Minuscule deterioration in terms of environmental impacts, just glance at the durability of mud as construction material in the great wall of China.
Insulation: clay has significant insulation properties. Due to high thermal mass it absorbs, stores and releases heat according to the environment.
You can learn more about different types of sand used in construction
2. Fabric:
Over tens and thousands of years, the tent has been choice of a home to many nomadic groups round the world. The prominently known of them are "Conical Tepee" and "Circular Yurt". In history, cotton and hemp were predominant as fabric for Building materials and construction. Moreover, modern developments have cherished to major construction techniques leading to tensile architecture and synthetic fabrics.
Looking upon modern architecture, it has been greatly modified and fabric structures are stronger and reliable.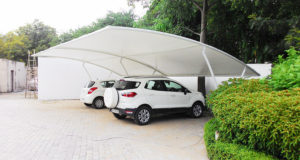 Benefits of Fabric as a building material:-
Lightweight & easy instalable: The very reason fabric has been most famous among nomads was its versatile nature.
Low Maintenance: minimal maintenance cost makes it best option as a construction material.
3. Rock:
Rocks have sustained human since, years and ages. It is one of the longest-lasting material, which can be readily usable. Diversified properties of rock spread worldwide have attributed it with multipurpose material. Rock is a highly dense material, offers substantial durability to environmental impacts.
Different types of rocks such as granite and slate have been significantly used in the medieval period as well as primitive civilizations.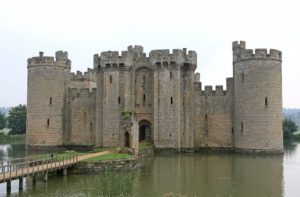 Advantages:-
In arguably, Rock is significantly the most low maintenance material of all.
The rocks have over other building materials an add-on benefit for its environment durability capacity.
4. Thatch:
Thatch, on the other hand, is one of the oldest known material. Often harvested through grass, which is prominently an excellent insulator. Glancing over the tribes in Africa, Thatch has been utilized as around the year roof.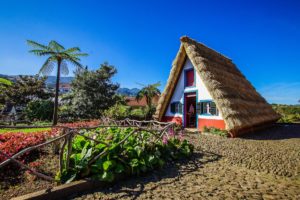 In general observation, Thatch has succeeded as a residential material, but its application couldn't exceed to industries. In the modern era, New Zealand has come up with innovative applications of Thatch.
Advantages being Thatch as a building material:
Water-Resistant: It comes under a thin category of water-resistant natural materials.
Insulator: It holds air pockets among it, to ensure the building remains warmer and cooler as per seasons.
5. Wood:
Wood or more appropriately timber is a fibrous product achieved from tress. Wood has been used as a binding material since ages in the form of boards, Planks or similar materials. Due to environment-friendly nature, it helps to build construction despite severity in climatic conditions.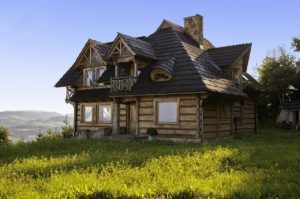 Incredible properties associated with woods such as flexural strength under loads and sturdiness while bending. Wood holds diversified properties as a variation in climates and their sources. In earlier times woods has found its applications into sleepers of railways, building supports or braces.
Advantages:-
Energy-efficient: Wood being an insulating material, saves considerable energy.
Highly versatile nature: Wood being a natural as mould able material, tends to be very effective.
Learn more about different types of Wood used in construction
6. Ice:
Many of us might not consider it as a building material, but ice has been a significant building material in Northern colder regions. Ice was sued by Inuits to make their Igloos. Ice on the other hand been used to make ice hotels and offer artistic look to interiors.
In regions with high winters and high-end tourist's destinations, Ice plays a predominant role in protecting under severe storms.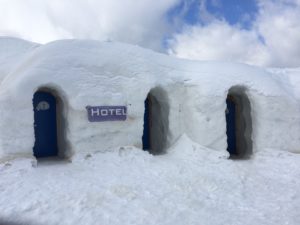 Benefits:
Insulation: high insulating property of Ice is very effective when building storm-resistant houses.
Accelerated Construction: The construction of ice houses can be done very rapidly.
7. Puzzolana:
The term Puzzolana originated from the name of the town in Italy called "Puzzouli". The volcanic dust around this town which is formed due to the frequent eruption of the nearby volcano mixed with the hydrated lime found to possess hydraulic properties. Since then, puzzolana has become one of the Building materials in the construction. Before the arrival of cement, puzzolana is mixed with lime to make concrete. As of now, its prime use is to replace a proportion of cement when making concrete.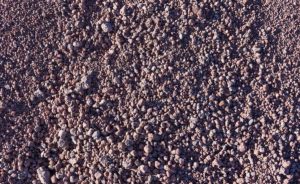 Advantages:
Workability of concrete is good with the reduction of segregation and bleeding.
Concrete made with the puzzolana has good resistance to freezing and thawing.
Cost-effective and cheap compared with the cement.
Puzzolana reduces the leaches of soluble compounds in concrete which benefits the concrete to make impermeable.
Man-Made Building Materials used in construction
8. Brick and Block:
A brick can be said as a block of a mixture of clay-shale heated together in a kiln. Clay bricks have been utilized to consolidate and create more sturdy structures. Bricks in the previous era were made of volcanic ash and subtle amounts of lime.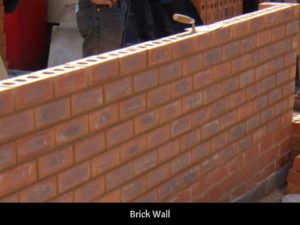 In modern times like today, they have been made through extruding clay machines and cut along their shapes. The prominent benefits bricks brought after mud as the construction of a Building material was its sturdiness and affordable manufacturing.
Prominent aspects of Bricks as a building material
Weatherproof: The most crucial aspect of bricks is that they are weatherproof and often cover effectively for Stone.
Sustainable: The consistent abuse of natural resources has alarmed their optimal usage.
Also Read:

BrickWork Calculation | Types of Bricks | Bricks in Construction
9. Concrete:
The material of "Future". World Most consumed material after water. Well, that's how much significant concrete is. The combination of aggregate, sand and cement. Hydration of concrete leads to its hardening like a stone. The consistent innovations in concrete have opened various untouched opportunities for customized concrete.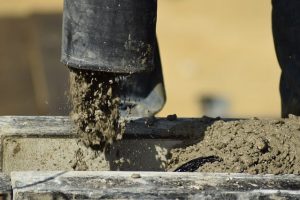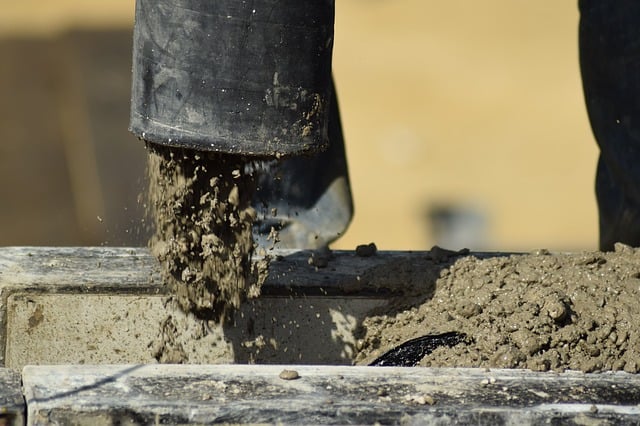 Negating problems like air bubbles, segregation and honeycombing have been made through innovative approaches. Ready-mix concrete is often adopted on major construction sites, ensuring quality control and rapidness. Qualities like formality around the reinforcement, ease of transport and durability have been its modern age building material.
Prominent aspects of concrete as a building material
Versatile applications: The easy mould ability and operation of concrete has made it the best shapes
Economical: The substantial benefits reaped our through concrete has been economical in all the terms.
Also Read:
10. Metal:
Often used as a structural material for large buildings and industries. Metal has used a cladding in various aspects. Inherent qualities like flexibility and strength make it as usual choice of metal structures. Effective controlling of corrosion can make metal as the best situational building material.
Metal, on the other hand, succeeds concrete in terms of lightweight and sturdy structures. Corrosion of metal is a concerning aspect when dealing with high rise industries and warehouses. Many metals like chrome, tin, titanium, copper and brass have illustrated applications in the construction industry. Titanium and aluminium as a metal holds, the significant property of high tensile strength. On the other hand, expressive metals such as gold and silver have decorative applications.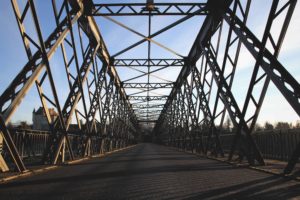 Advantages being steel as a Building material:
Economical construction: Since finances are the second aspect considered after quality in the construction industry. Metal I.e. Steel, offers substantial benefits in terms of that.
Strength and Aesthetic: metal structures have substantial strength and have high surface area ratio to strength.  
11. Glass:
Glass isn't new material as we think about, it was invented in 3600 B.C. An excellent material prepared by heating Sand and Silicates at high temperature, lead to the discovery of this magnificent material. Glass has been helping humans to prepare to see through windows along with decorative purposes.
Innovations in glass have made it brittle proof and energy-efficient material in the construction industry. Glass has its extensive applications in creating "Space Frame".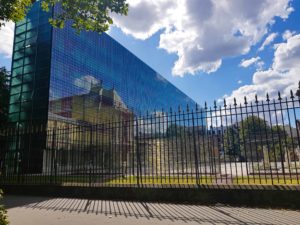 Prominent aspects of Glass as a building material:
Weather-resistant: A specially forged glass can offer substantial benefit as an environment resistance.
Sustainable future material: Glass with low refractive indexes has been helping to offer high sunlight friendly houses.
12. Ceramics:
Interior decorative material such as tiles and fixtures come under ceramics. Their prominent application could be found as covering a certain part of buildings or setting up fixtures. In general the most common of all them are walls paints, counter-tops, ceramic floors and even fall-ceilings come under ceramics.
A significant number of countries worldwide use ceramic flooring to cladding to buildings. In ancient time, ceramics were restrained to a special type of kiln manufacturing. In modern times, ceramics has technically as well functionally involved.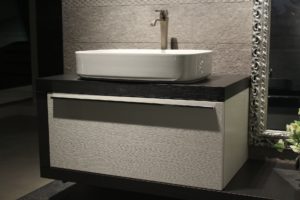 Advantages:
Lightweight: Ceramics as a building material is a lightweight material and offers high strength to weight ratio.
Extreme Hardness: these ceramics bring forth an add-on quality of being extensively hard for impact.  
13. Paints:
Paint is a liquid surface coating which forms as a thin film on drying. 
There are different types of paints, each of them chosen as per the requirement. Out of them, Oil paints, water paints, cement paints, bituminous paints and special paints such as fireproof paints, luminous paints, chlorinated rubber paints (for protecting objects against acid fumes) excessively used in the building construction, which in turn makes Paint is an important building material for the construction. 
Benefits:
It resists the deterioration and protects the surface from stresses. 

Decorates the surface with a smooth and fine finish.

It protects the wood work from decaying.
14.Polymeric Materials:
Rubbers, Plastics and resins used for the construction purpose are made with the polymeric materials. Polymers are macromolecules with high molecular weight having colloidal dimensions (10–3 to 10–6 mm in diameter) Small molecules called monomers undergo polymerisation reaction and form macromolecules.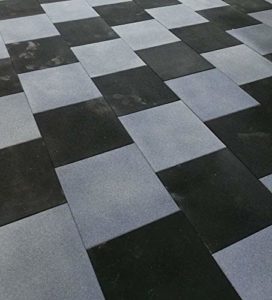 Benefits:
Rubber is the most suitable material for conveyor belts, linings for tanks. Ruber is also used in making insulating materials.
Phenolaldehyde resin with waste rubber is used to make flooring tiles.
Chlorinated rubber is used in the production of adhesives and protective coatings
Foam rubber made from Rubber is extensively used in upholstery and furniture.
Conclusion:
In the modern era, the construction industry has evolved as a multidimensional industry. In order to construction rapid, cost-effective and adhering to subpar quality standards has been the sole idea to utilize building materials. Building materials utilized for construction has been rather helping and nurturing the human lifestyle. The consistent rise of environmental issues has opened new gates for innovative and smart Building materials construction.
Also Read: 
Important properties of concrete
Segregation and bleeding in concrete
For Instant updates Join our Whatsapp Broadcast. Save our Whatsapp contact +919700078271 as Civilread and Send us a message "JOIN"

Never Miss an update Click on "Allow US" and make us allow or Click on Red notification bell at bottom right and allow notifications. Stay tuned! Many More are updated Soon!!. Civil Read Wishes you ALL the BEST for your future..