Quantity of Water is added in M20 grade concrete (All grades):-

As I already given detailed explanation about how to find out the quantity of Cement, Sand and Aggregate required for different grades of concrete. Here you can learn about quantity of Water is added in M20 grade concrete (all grades). We know that, Concrete is a mixture of Cement, Sand, Aggregate and water. Water-Cement ratio in concrete possess a great rank in acquiring desired strength of concrete. Different grades of concrete have different proportions. Same, Different grades of Concrete Mix design need different quantity of water. We know that as grade increases, strength of concrete increases. But when coming to Water quantity, as the value of grade increases quantity of water required for making concrete  decreases. Don't forget, excessive use of water in concrete may leads to shrinkage and creeping.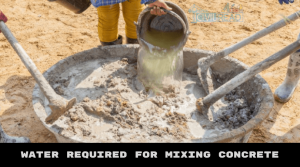 The Quantity of Water required for different grades of concrete is stipulated below:-
In below 'M' refers to Mix and value behind M refers to Compressive strength of concrete in KN/cu.m at 28 days.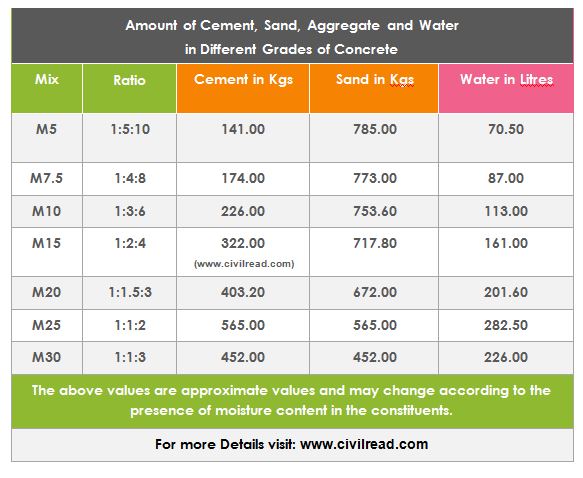 Remember, the above mentioned values are nominal and may varies depending upon the moisture content present in sand, cement and aggregate. We don't use the sand which has a moisture content of more than 5%. As moisture content varies from place to place and time to time. Above mentioned values are standard values. 
You can also read:-
10 Types of footings or foundations which we adopt in Construction
16 Different types of slabs in construction 
Different types of Columns in construction
Don't Forget to Share With your friends! Sharing is Caring:)
For Instant updates Join our Whatsapp Broadcast. Save our Whatsapp contact +9700078271 as Civilread and Send us a message "JOIN"

Never Miss an update Click on "Allow US" and make us allow or Click on Red notification bell at bottom right and allow notifications.
Stay tuned! More are updated Soon!!.
Civil Read Wishes you ALL the BEST for your future..