The Consistency of cement test is performed to determine the amount of water content that is to be added in cement to attain Standard consistency or normal consistency of cement.
(or)
Amount of water added in cement to penetrate the Vicat plunger up to a depth of 5-7mm from the bottom of the Vicat mould or 33-35mm from top of the Vicat Mould.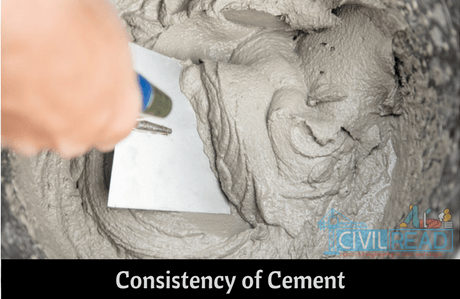 Significance:-
When water is mixed with cement, it starts hydration. Excessive addition of water in cement results in an increase in Water cement ratio & ultimately cement loses its strength when it hardens. If Less water is added than required, Cement isn't properly hydrated and results in loss of strength.
The Standard or Normal consistency for Ordinary Portland cement varies between 25-35%. 
To prepare a mix of cement paste of Standard consistency 25-35% of water is added to cement.
To explain in detail Let us assume a standard consistency is 30%.
Take 400g of Cement for this quantity, Add 30% of Water. i.e., 120g of water content is added in cement to attain standard consistency.
Also Read:-
Why normal consistency of cement varies?
Well, there are so many reasons for it out of them. The main reasons are stipulated below:-
1. Weather conditions
2. The excessive composition of silica
3. The fineness of cement.
4. Cement produced by different companies doesn't have the same consistency.
How to calculate the standard consistency or normal consistency of cement?
Well, as already mentioned the standard consistency is varied from site to site and region to region and also with the composition and fineness of cement. It's essential to standardize the percentage of water is added in cement to complete the chemical reaction.
For finding the normal consistency of cement As per IS:4031-PART4-1988 VICAT APPARATUS test is performed.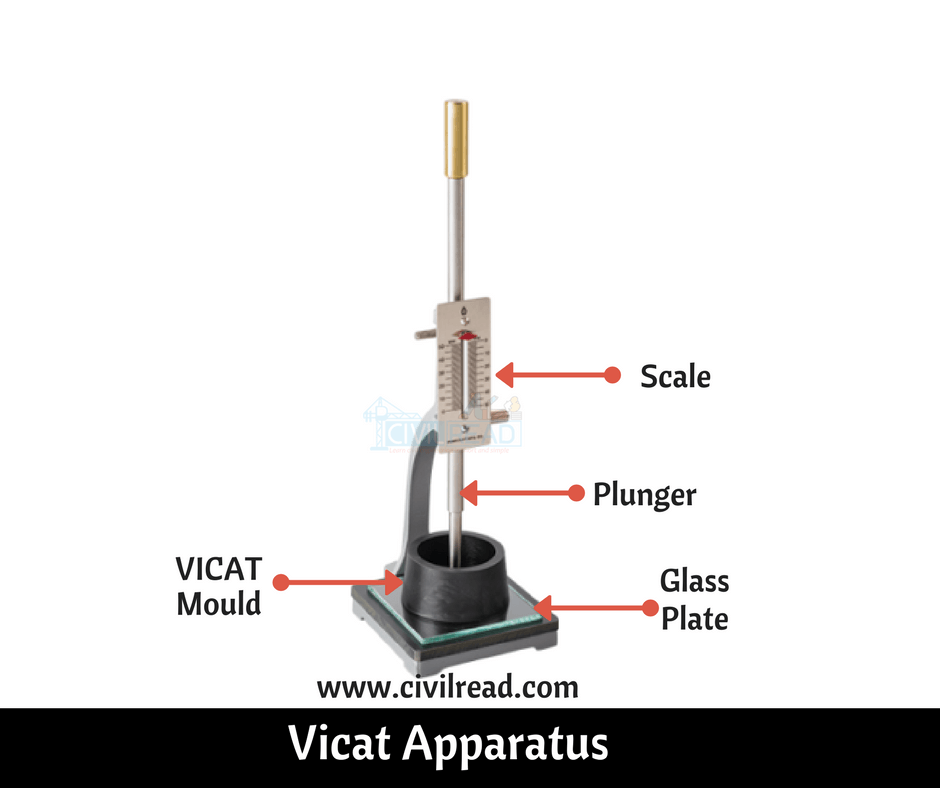 Apparatus required:-
Weighing balance of 1000g with accuracy 1g and Measuring cylinder of 200ml, VICAT apparatus, VICAT Mould, Glass plate, the plunger of 10mm dia and Hand Trowel.
Procedure:-
Take 400g of cement and place it in a bowl or tray.
Now Assume standard consistency of water is 28% and add the same quantity of water in cement and mix it.
Mix the paste thoroughly within 3-5 minutes. The time taken to obtain cement paste after adding water is called gauging time.
Now fill the paste in Vicat mould correctly any excessive paste remained on Vicat mould is taken off by using a trowel.
Then, place the VICAT mould on Glass plate and see that the plunger should touch the surface of VICAT mould gently.
Release the Plunger and allow it to sink into the test mould.
Note down the penetration of the plunger from the bottom of mould indicated on the scale.
Repeat the same experiment by adding different percentages of water until the reading is in between 5-7mm on the Vicat apparatus scale.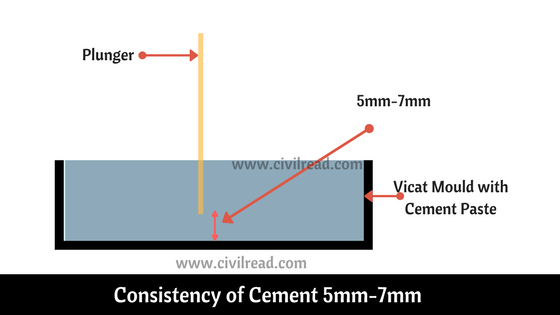 Also Read:-
Initial and final setting time of cement
How to find the quality of sand on site?
Segregation and Bleeding in concrete
For Instant updates Join our Whatsapp Broadcast. Save our Whatsapp contact +919700078271 as Civilread and Send us a message "JOIN"

Never Miss an update Click on "Allow US" and make us allow or Click on Red notification bell at bottom right and allow notifications.
Civil Read Wishes you ALL the BEST for your future.